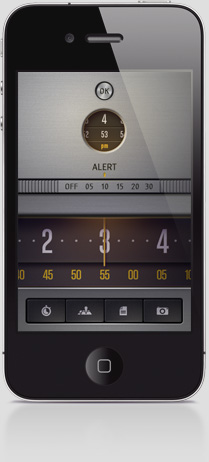 Mission: Park!
Never forget your parked car, never run out of meter time. Tag, time and retrieve your parked car with Mission: Park!



Smile
Everything should be fun, even if it is only parking. Turn your phone into a mechanically inspired gadget built to take care of parking.
Relax
With features like multiple car tagging, audio/text/photo notes, GPS, and GPS reception, we've got all the little bits covered to fit the different scenarios you might encounter.
Enjoy
We obsessed over the design to try and make it the most memorable experience possible.


Timer
If you're on metered parking, the timer's got you covered. Just set the time, when you want an alert reminder and let the app take care of the rest. Check back at any time for an update and to see how long the walk back is.

Timer display
Know just how much time you've got left. Tap to set or change the time.
Car Distance
Shows how far you are away from the tagged car. Tap to toggle between walking time or distance.
App Settings
Check here to adjust your app preferences.

Expiration Timer
While setting the timer, glance here to see what time the meter will expire.
Alert reminder
Makes sure you remember to get back to your car in time before the meter expires. Slide sideways to select from 0 to 30 minutes.
Set timer
When lit, the timer becomes active allowing you to swipe sideways to get the desired time.

Maps
When you're in the city and have to park in an unfamiliar spot just tag your car with maps and rest assured you'll have guided directions on the way back.

Multiple cars
If you happen to be traveling and need to keep track of your car at the airport and abroad, toggle here to tag both cars.
Route
When you're ready to head back, hit route for guided directions back to your tagged car.
Park
Tap the park button to tag your car on the map.
GPS Reception
Sometimes gps reception isn't that great which means poor gps accuracy. If it's low, be sure to wait for your phone to finish syncing so your car gets tagged where it is, not a block down the street.

Notes
For parking garages and places that require a bit more information than just a point on a map, use a voice memo or type a note real fast.

Text notes
Tap to type a note.
Audio notes
If you prefer to talk instead of type, tap record and talk away. Tap recording to stop recording your note. Tap play to playback your voice memo.
VU meter
Here for just a little fun, is a sound meter to help you know whether you are talking loud enough for the mic on your phone.

Camera
If you prefer visual cues to notes, don't worry we have that too. Just use the in-app camera and keep your iPhone's camera roll free of clutter.

Photo notes
Swipe sideways to view up to five photos.
Shutter release
When viewing your photos, tap here to switch over to camera mode. Tap here in camera mode to snap a picture.
Settings
Look here to customize the app to your liking. And if you would like to share your thoughts with others, you can do that too.

Map alerts
When map alerts is ON, it will alert you if the gps accuracy is poor while tagging so you can make sure the tagged location is correct.
Compass mode
Turning ON compass mode will allow the maps to orient in the direction you're walking so you don't have worry about whether you're going in the right direction or not.
Units
Toggle this to set the car distance to display in miles or kilometers.
Default pre-alert timer
Slide the knob sideways to change the default pre-alert value in the set timer screen.